How to withdraw money from Skrill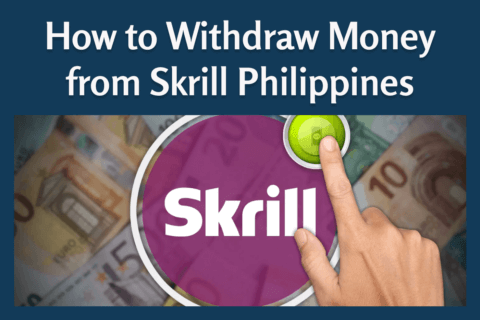 Skrill, which was once known as Moneybookers, is an online digital wallet that's been in operation for over 20 years. The provider offers a variety of money transfer and online payment services. It operates in over 120 countries and in 40 currencies. Users transfer money to their wallets via many payment methods (bank transfer, card, etc.) and then use those funds to make payments or cryptocurrency.
Skrill is good for gamblers who want to use online casinos because their payment information is protected and hidden. In fact, plenty of casinos partner with the company to provide exclusive bonuses.
In this article, we'll tell you all about how to withdraw money from Skrill. Read on to find out more.
Skrill: Transfer Money from the Philippines
As previously mentioned, Skrill is an online wallet that can be used on many websites in the Philippines as a payment method and also to deposit and withdraw funds from Skrill online casinos. In essence, Skill works similarly to a bank account. You use your account to receive money from others, transfer money to others, and pay for things online.
Skrill is used widely in the Philippines because it's a safe way of keeping your bank details hidden from companies. The company or casino still gets their money, but they don't have access to your account number, for example. This is just another layer of protection for users.
When it comes to online gambling, Skrill is widely used. This is because many sites don't deal in PHP, and so players need a way of paying in other currencies, like USD or cryptocurrencies. There are more than 40 different cryptocurrencies available at Skrill.
Skrill even has a prepaid Mastercard option so that people can make payments with that too.
What can I do with Skrill?
In the Philippines, the most common uses of Skrill are:
Making online purchases.
Money transfers.
Having access to funds in a different currency.
Having access to cryptocurrency for trading or gambling.
Depositing money to use elsewhere.
How do I transfer money from Skrill to GCash?
GCash is important in the Philippines, and so many Skrill users want to know how to transfer money from Skrill to GCash. GCash has been around for almost 20 years (nearly as long as Skrill), so it's inevitable that people would like to combine the two. There are lots of online casino GCash sites with great bonus offers. With GCash just being in the Philippines, it makes sense for users to also have a Skrill account when they would like to pay for something in a different currency.
Here are the steps you need to take to send to GCash:
Download the app onto your smartphone or create an account on the website.
Log into the app or website.
Go to 'Send'.
Choose 'Philippines' and 'PHP' as your currency.
Enter the amount of money you want to send to GCash.
Select your payment method.
Enter the GCash-registered number and the recipient's name (the mobile number needs to be in the correct 09XXX… format).
Confirm your chosen amount, then send.
Typically, this transaction is processed in a matter of minutes, and the money will arrive in the GCash account.
If you want to know how to send money from GCash to PayPal, read our guide.
How to Transfer Money from Skrill to PayMaya
As well as sending to GCash, you can also transfer money from Skrill to PayMaya. To send money from PayMaya, you have to add this payment option to your account. PayMaya is actually now just called Maya, as it's been given rebranding and a new look. You can also check out the list of PayMaya casinos that are available to gamble in the Philippines.
There are two ways to do this. Here is the first way:
Log in on the app or website.
Go to 'Send'.
Click on VISA (this is how you send it to Maya)
Enter your details and the amount of money.
Send.
The other way of doing this is by going through Maya and doing a 'cash in' option.
Open the Maya app.
Select 'Cash In'.
Select 'Bank Account' and choose Skrill.
Log into your account and complete the process of authentication.
Click 'Authorize'.
Once the accounts are linked, Maya will be able to take money out of Skrill and put it in your Maya account. If you want to know how to deposit in Skrill from Philippines accounts, this is another way you can do this too.
Final Thoughts
Though using Skrill in the Philippines comes recommended – particularly to those using online gaming platforms – it's worth noting that you might have to pay any fee depending on how you use this e-wallet. When you deposit with Visa, Mastercard, Amex, Diners Club International, JCB, Bitcoin, International Bank Transfers, Fast Bank Transfer, Klarna, Paysafecash, Trustly, Neteller and Rapid Transfer, you will pay 2.5% of your deposited amount as a fee. However, there are no fees for receiving money.
If you withdraw to a bank account or buy something online, you won't pay any charges either. As such, CasinoHEX recommends Skrill for withdrawals from online casinos rather than deposits (unless you're going to keep money in there from withdrawals (or get someone else to send it to you, so there's no fee).
Overall, Skrill is a well-known and widely used e-wallet that is loved by lots of Filipinos who use online casinos. Being an international resource means that lots of doors are open to those players in the Philippines who wish to try out offshore platforms.
FAQ
1️⃣ Can I use Skrill in the Philippines?

Yes, this e-wallet is widely used in the Philippines as a safe payment method and e-wallet. Using this means online shops and gaming platforms don't have access to your bank account details, so there is an added layer of security.

2️⃣ Can I transfer funds from GCash to Skrill?

Yes. This is possible. Both accounts are e-wallets, and payments are usually instantaneous once the link has been authorized.

3️⃣ What is the ​​minimum amount to transfer GCash to Skrill?

There are no minimum amounts. You can transfer as little as you wish.